Updates
DEUS II V2.0 update
We are excited to introduce the Version 2.0 for your DEUS II.
Version 2.0 makes your DEUS II even more versatile by adding compatibility with the new XTREM HUNTER deep seeking accessory.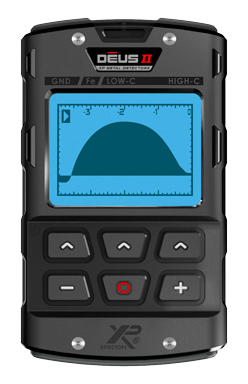 Once you have paired the XTREM HUNTER with your DEUS II as a new coil, a dedicated interface will appear on your Remote Control for its operation.
At any time, you can easily switch back to your original coils with just one click to improve your search.
Other Improvements introduced with V2.0:

Gold field program: Increased Sensitivity to small targets (low conductors).
Equalizer now functions with the Bone Conduction headphones.
Please ensure that BOTH your Remote Control and your wireless headphones WSAII (XL) / WS6 are updated to the same version for proper functioning.
Click on the link at the bottom of the page to go to the Updater page and then follow the instructions in the updater carefully.
Select the "DEUS II" tab at the top of the updater page.

Follow the instructions to set your remote control to update mode (Option > Config > Update > Confirm).

Use the 3 output USB cable supplied with your DEUS II and connect it.

Choose the version you wish to install from the drop-down menu on the left.

When successfully updated, proceed the same for your headphone as explained below.
WS6 AND WSAII / WSAIIXL HEADPHONES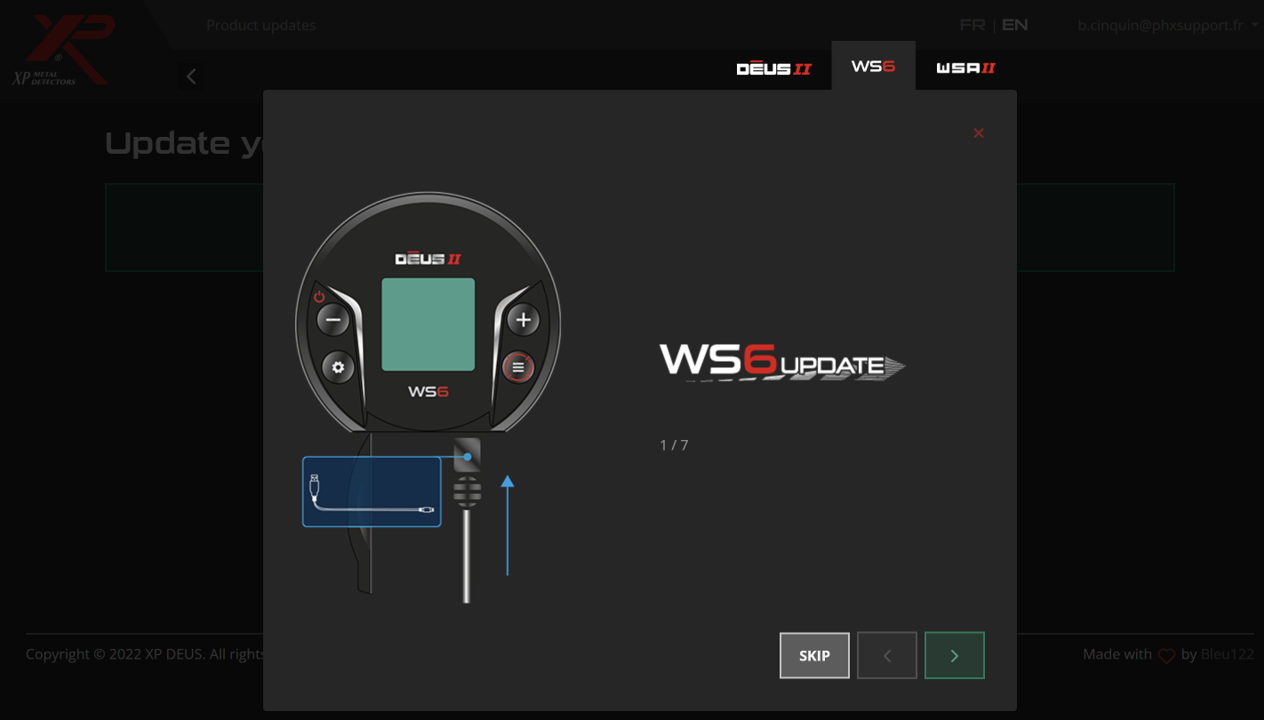 Please note that it is mandatory to update your WS6, WSAII and WSAII XL wireless headphones to the same version as the remote control, otherwise they will not work.
Select the "WS6 or WSAII" tab at the top of the updater page. The WSAII and WSAII XL use the same updater file / tab.

Follow the instructions given by the updater to set your headphones to update mode.
WS6:

Press the button ⚙️ to access Option, scroll with the same button and select CONFIG by pressing for 2 seconds
Scroll with the same button and select UPDATE by pressing the button for 3 seconds

Press the bottom right button to confirm
WSAII (XL):
Press the - button and
then
the + button and hold both buttons for 12 seconds.
! Use the
single USB cable
(DATA) that we supply with the headphones
and not the 3 output one
.
If you have created customised programs, we recommend that you make a note of them before the update so that you can re-enter them after the update.